ATLANTA, Sept. 06, 2023 (GLOBE NEWSWIRE) — In a significant collaboration, Matmerize, Inc., a materials AI innovator, and Resonac Corporation have formed a strategic partnership aimed at revolutionizing the landscape of 6G technology. Building on the strong collaborative foundation, Resonac will leverage the power of Matmerize's PolymRize

AI software technology to accelerate the development of exceptional high-performance neat and composite materials for 6G technology and beyond.
In January 2023, Resonac Corporation announced plans to develop new semiconductor materials for 6G, the next-generation telecommunication system standard following 5G. With 6G set to be 100 times faster than 5G, new semiconductor materials are needed to substantially reduce the transmission loss associated with the increased communication speed. To meet this requirement, Resonac will identify optimal materials with the required characteristics through computational and Artificial Intelligence (AI) methods in a collaborative venture with Matmerize, Inc. Where manual testing using traditional techniques would demand three months to assess a single materials combination, Matmerize's AI software, PolymRize

, reduces the time required to a single day and can evaluate up to 90 combinations within the same three-month span. The result promises to be a fusion of materials engineering and artificial intelligence, poised to redefine the development of 6G technology.
PolymRize

harnesses Matmerize's proprietary data or client-specific data to construct predictive models. Once built, these models rapidly predict the properties of novel, yet-to-be-synthesized polymers, composites, and formulations, complete with their associated uncertainties. The software employs automated and generative design tools to recommend ideal candidates that meet property requirements for subsequent rounds of physical experimentation. PolymRize

thus accelerates the journey towards target materials, drastically reducing both time and costs. Moreover, it introduces a framework for data management and organization, and has emerged as a dependable digital aide for chemists and process engineers.
In a pilot initiative, Resonac evaluated Matmerize's capabilities. Predictive models were constructed using PolymRize

and 3rd party software for key material properties relevant to 6G technology. Properties included bandgap, dielectric constant, refractive index, glass transition temperature, and coefficient of linear expansion. The performance of PolymRizeTM and third-party models were assessed by making property predictions for identical unseen test cases. PolymRizeTM predictions consistently out-performed third-party models in speed and accuracy (see figure showing Performance of models).
A Media Snippet accompanying this announcement is available by clicking on the image or link below: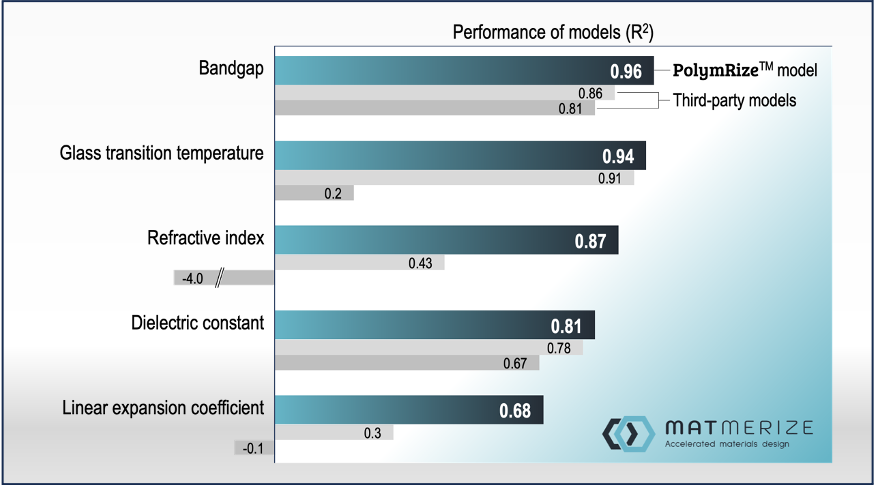 "Collaborating with Resonac on the development of 6G technology is a remarkable opportunity for Matmerize," said Rampi Ramprasad, Co-Founder and CEO of Matmerize. "Aligned with Resonac's vision to revolutionize next-generation technologies and powered by Matmerize's commitment to advance AI algorithms, architectures, and virtual materials design capabilities, we are poised to usher in a new era of accelerated intelligent materials design".
For more information on the innovative PolymRizeTM platform please visit: https://www.matmerize.com/polymrize
For Resonac's announcement of development of new semiconductor materials for 6G
https://www.resonac.com/news/2023/03/13/2391.html
About Matmerize:
Matmerize, a recent spin-out from the Georgia Institute of Technology, is at the forefront of pioneering solutions that bridge the gap between AI and materials engineering. Matmerize's PolymRizeTM platform utilizes virtual screening and AI algorithms to identify the most optimal materials, enabling technologists to focus their experimental efforts on the most promising options, thus significantly accelerating the materials engineering process. PolymRizeTM represents a paradigm shift in industry, propelling clients ahead of the competition and driving innovation at an unprecedented pace.
About Resonac:
The Resonac Group is a new company established as a result of the integration of the Showa Denko Group and the Showa Denko Materials Group (former Hitachi Chemical Group) in January 2023. The Group's annual sales of semiconductor and electronic materials amount to about 400 billion yen, accounting for about 30% of the Group's annual net sales. The Group especially has global top share of semiconductor materials for packaging process. The integration of the two companies has enabled the Resonac Group to design functions of materials as well as to develop them in-house, going all the way back to raw materials. The new trade name "RESONAC" was created as a combination of two English words, namely, the word of "RESONATE" and "C" as the first letter of CHEMISTRY. The Resonac Group will make the most of its co-creative platform, and accelerate technological innovation with semiconductor manufacturers, material manufacturers, and equipment manufacturers inside and outside Japan.
For details, please refer to our website: Resonac Holdings Corporation: https://www.resonac.com/
Contact: 
Matmerize, Inc.
https://www.matmerize.com
E: info@matmerize.com
Y: Watch Matmerize Videos on YouTube
L: Follow our LinkedIn Page
GlobeNewswire Distribution ID 8917638