A Silicon Valley Startup – PlugXR
DAVOS, Switzerland, Jan. 19, 2023 (GLOBE NEWSWIRE) — PlugXR's no-code platform allows users to create the fastest Immersive applications, including Metaverse, Augmented Reality (AR), and Virtual Reality (VR) applications by anyone. This version of 5.0 of the platform provides newer features like Cloud Editor, readily available Templates, 3D Optimizers, and many other rich features in addition to enabling users to create Metaverse applications without having to write code.
PlugXR V5.0 is already in action at the World Economic Forum 2023. The latest version of the platform is leveraged as the AR/VR Solution for one of its prestigious clients to create an immersive experience showcasing India's art and handicrafts at the Forum.
With the release of this newest version, agencies in the software, creative, and marketing industries can develop immersive applications in a few minutes, enabling faster time to market for their respective clients. This update will allow these agencies to expand their service offerings to the immersive technology industry, providing their customers with cutting-edge solutions and earning more revenue without the need to hire additional developers. This is a game-changer for the industry and is bound to revolutionize the way businesses operate.
"We are thrilled to bring version 5.0 to the market and can't wait to see the innovative Immersive experiences our users create with it. We are also proud to have over 40,000+ platform users in 130 countries who have already created 100,000 Immersive experiences using our platform," said Shivaji Yerra, CEO of PlugXR.
In addition to serving individual creators and developers, PlugXR also works with brands and agencies to bring their visions to life. With the launch of version 5.0, the scope of opportunities has expanded in the Web 3.0 sphere by introducing a lifetime free version that empowers creators and developers to explore more possibilities, construct more ideas and expand their creativity.
Don't miss out on the opportunity to be a part of the future of immersive technology. Come meet us at the World Economic Forum to learn more about PlugXR 5.0 and explore collaboration opportunities.
Visit https://www.plugxr.com
Contact Information:
Shivaji Yerra
CEO
shivaji@plugxr.com
+919963063506
Related Images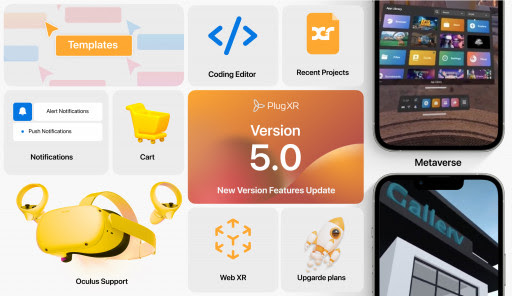 Image 1: PlugXR V 5.0 Features
PlugXR V 5.0 Features, No Code, Metaverse, Templates, Cloud-Editor, Oculus.
This content was issued through the press release distribution service at Newswire.com.
Attachment
GlobeNewswire Distribution ID 8732851